If you follow my blog, you know that I battle against dry skin, especially in the winter time. It's one of the many reasons I learned how to make lotion bars (find my recipe
here
). It's also the reason I bought four different kinds of body butter off Amazon two days ago. And both those things are great and lovely and moisturizing. I find the lotion bar, especially, is great for extra, targeted moisture where I have actual eczema and not just general dryness. However, I found that I still hadn't found a great solution for when I'm at work, or doing stuff at my computer. Because, while they are incredibly moisturizing, lotion bars and body butter tend to be a bit on the greasy side, which is not ideal when I'm at work or touching electronics. I have also been having an eczema flare-up for the past few weeks, and on my dominant hand of all places, which is just driving me batty. So I really needed something to put on my hands multiple times a day that I wouldn't have to worry about letting soak in after I applied it. So, after a thourough internet and in-person search, I decided to buy the following two products:
First is the
Up & Up Eczema Moisturizing Cream
. On the package it says to compare to Aveeno Active Naturals Eczema Therapy Moisturizing Cream. I really like this lotion. It has an ever so slightly oatmeal scent and soaks in nice and quick. But it also moisturizes very deeply, makes my hands stop itching, and I can still feel the moisture in my hand over an hour later. I've been keeping it on my desk and using it every time after I wash my hands or whenever I feel I need more. I've also been using it at night before I go to bed and put on my lotion bar.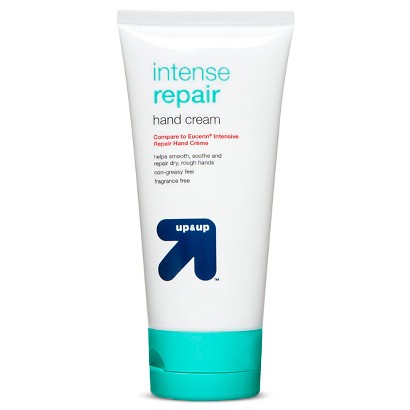 Second is the
Up & Up Hand Cream Skin Repairing
. This one says compare to Eucerin Intensive Repair Cream. It has a simple lotion-y scent and also is incredibly moisturizing, while also soaking in quickly. This one is a much smaller tube, so I threw it into my bag and have been using this one at work. I've been quite happy with it.
Sort of boring and mundane, but my hands were just driving me nuts and I was really happy to find a couple products that have been working well for me.